This month Carole asked us to create some improv slabs to use in half of our half rectangle triangles (HRTs) for her, paired with solid black. She provided a wide range of color options: red, blue, turquoise, aqua, yellow, yellow-orange, orange, purple, red-violet, green, and yellow-green. She gave us a variety of Kona and Bella Moda colors in these hues and asked us to avoid pastels and dark shades. I dove into my stash and pulled fabric from some of these colors.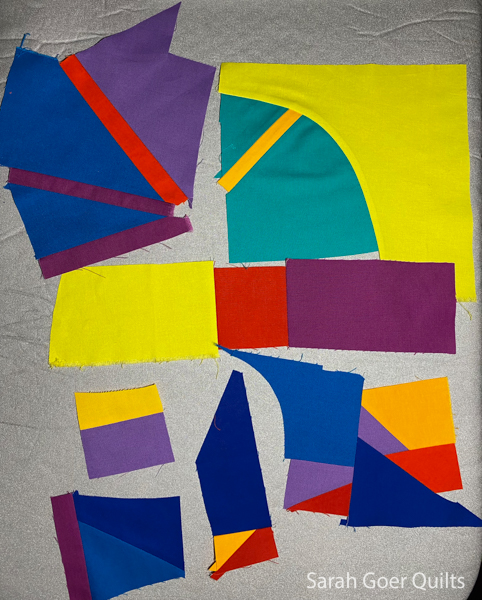 I was immediately drawn to Kona Acid Lime and aqua. In many cases I used small scraps and just worked with the shapes that I had. One scrap was the aqua curve. I did a slice and insert to add the golden yellow since the aqua was a large piece of fabric. Then I added the Acid Lime (shown in the upper right above). The strip beneath it was built to be added to that unit. Everything else shown here is just organically built with scraps the size and shape they were.
I slice and inserted the strip into my larger pieced curve section. This gave me a section large enough to cut the pieces I needed for a couple HRTs.
I ordered Latifah Saafir's new HuRTy 1 ruler to help me create my HRTs. Great tool! Highly recommend! These are the first two HRTs I created from the slab above. They are 4 1/2" x 8 1/2" unfinished.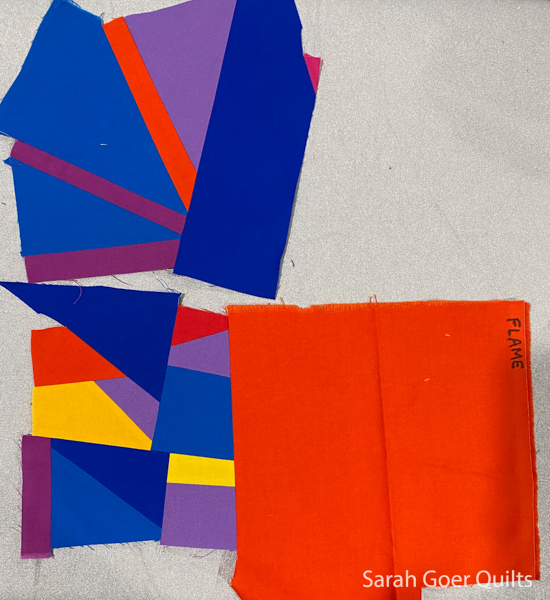 The pieced sections on the left all come from the remaining bits in the first photo above. Here I started adding on to the right side of each of the two sections so I would have the width I needed. (Pro-tip if you use solids: Label them in sharpie on the selvage edge so you know what to buy more of when you run low.)
I added yellow to the upper left (which ended up being unnecessary) and to the right side of the upper section. Then pieced the new blue section at the bottom to ensure I'd have the height I needed.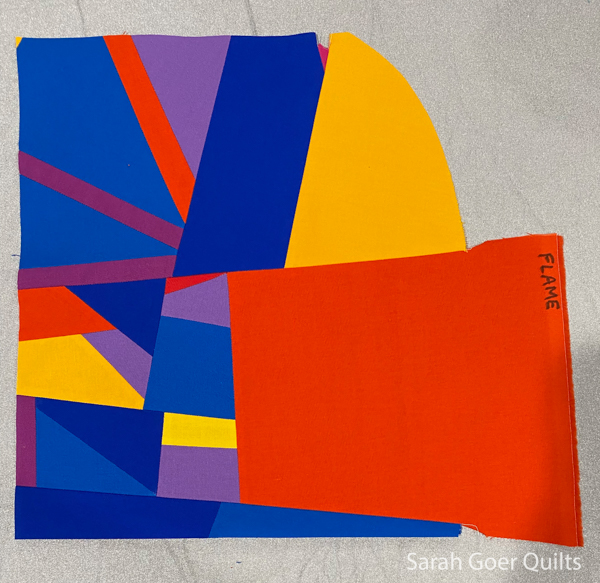 They I trimmed three sides so I could cut my pieces with the HuRTy ruler. See how that yellow in the upper left all but disappeared? And also, Carole asked for no pink, so that tiny pink triangle in the upper right needed to be avoided when I cut my pieces.
Tada! These each finish at 6 1/2" x 12 1/2" unfinished.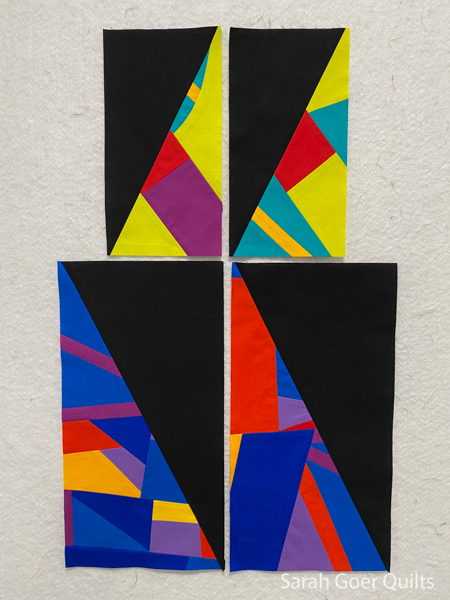 Here are the four blocks heading to Carole this month! It will be so fun to see the project come together.
The skills used in these blocks include concepts I teach in Building an Improv Toolbox and Creating a Scrappy Slab. I'm available for lectures and workshops for guild and group meetings, retreats, and other events in-person and on Zoom. And starting in 2023 I'll be offering occasional live Zoom workshops with open enrollment for individuals. Be sure you're on my newsletter list to be the first to hear about those.