I'm a big fan of Sam Hunter (website -- IG) so when she put the call out for a community stitching project I opted in. I don't generally do hand work, but the initial details assured us that it would be minimal and easy to complete.

The prompt arrived and I took a very literal, mathematical approach to it. In the moment, I wasn't overthinking it at all. I was simply following the instructions.
I mailed my block from San Jose, California ???????? to Sam and waited for reveal day. Today is the day and I'm already blown away with the Myriad Interpretations of Language.
After cutting a piece of solid-colored cotton fabric to 6'' x 6'', marking off a half-inch border all around to leave a 5'' x 5'' window in the middle, and marking our name along the bottom of the fabric, we were to stitch:
-Don't consult with anyone about it!
-Choose a thread that contrasts with your fabric.
-Using the thread, stitch a line on the fabric.
-Choose another color of thread.
-Stitch a second line that crosses the first.
???? I chose dark purple for my fabric. I stitched with Aurifloss, starting with Bright Turquoise (#5005) and then Light Lemon (#2110). My name is stitched in White (#2021).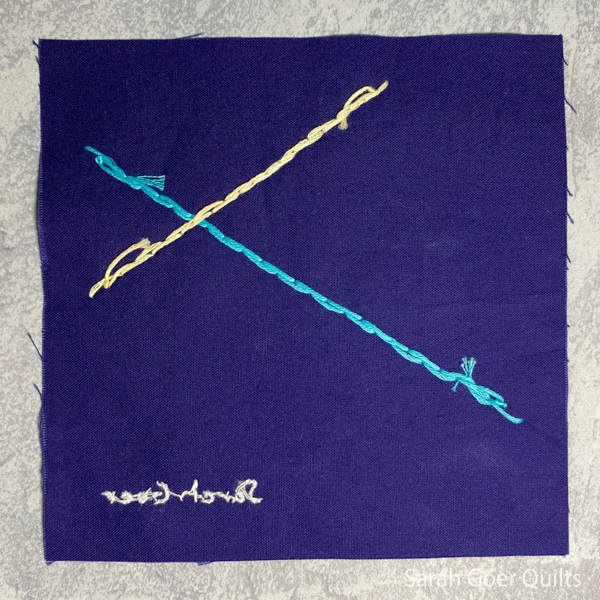 A peek at the back. :-)
Take a look at all the colors of fabric the 220(!) participants chose.
See them all at: #MyriadInterpretationsOfLanguage