Things were a little different last month in the Quilts Unscripted Bee. Sarah asked that we take inspiration from tile quilts and use raw edge appliqué for the construction of our blocks.
Sarah was inspired by this article from Quiltfolk about tile quilts and wanted our help to make a present day version of a vintage tile quilt. She asked that we work in all solids, that our background be a light neutral, and that we use colors from this photo as inspiration for our tiles: teals, red/pinks, lime/yellow greens, and a bit of warm brown/gold.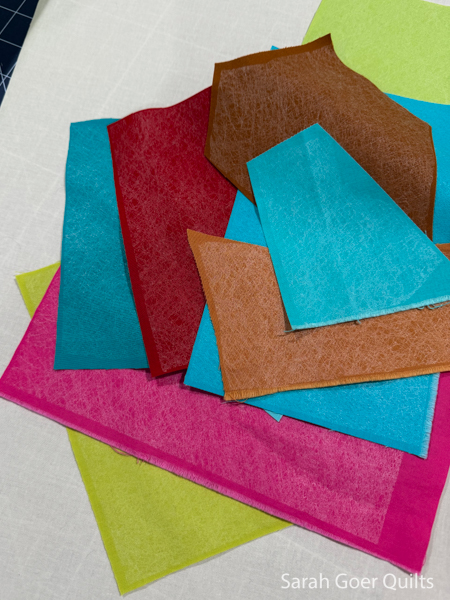 I love the palette Sarah chose and selected my fabrics. I used Ruby and Bee Vanilla Custard as the base for my block. The Kona solids that I chose for my tiles were: Chinese Red, Bright Pink, Jade Green, Splash, Capri, Sprout, Limelight, Roasted Pecan, and Gold. I applied Mistyfuse to the back of all my fabrics.
We were encouraged to use letters or object shapes to incorporate things that represent us. I started with a paint palette and added a paint brush (with the help of my daughter on how to draw a paint brush) and a crayon. Then I set to work filling in the space around my feature shapes.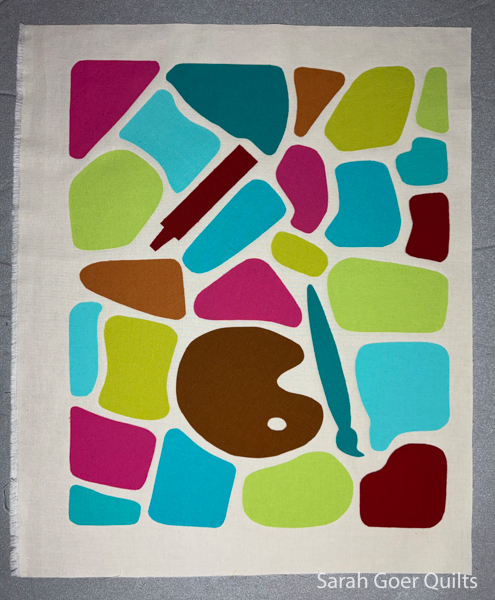 My finished block has a feature area approximately 11"x 14". I enjoyed the puzzle of filling in the space around my shapes.