This successful little quilt was a plan B and FOMO all wrapped into one.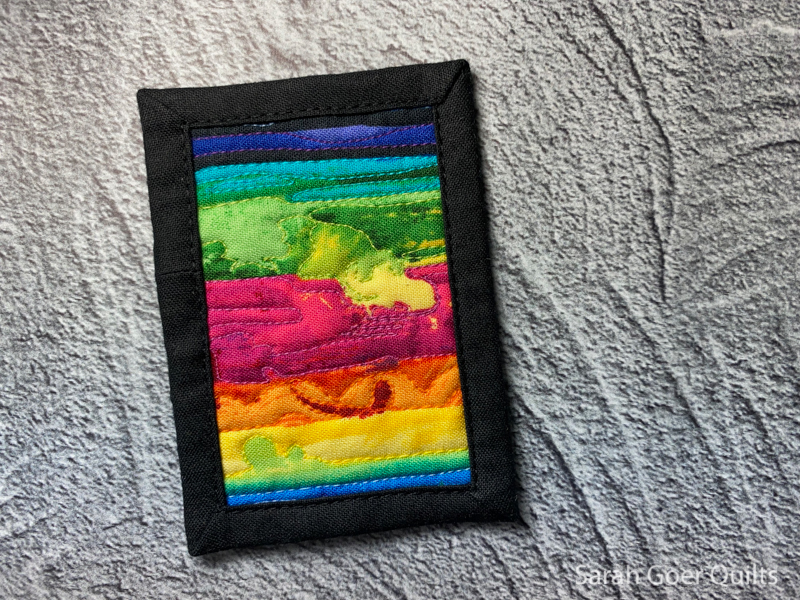 It's Project QUILTING season again! I've participated the last five years. (Though some years I don't complete all six challenges.) In the last many months I have been focusing on finishing up works in progress. I even updated the full UFO/WIP list. (Updated list coming later this month.) So... I decided what I would do for Project QUILTING this year would be to finish a project that was in progress for each of the challenges. I figured with the lengthy list of projects I would be able to fins a project to suit any challenge. I even looked over that UFO list and narrowed down to five contenders. But it's been a busy week and it's Saturday evening and I hadn't sewn a stitch.
One of the drawbacks to finishing an in progress project is that most of my WIPs are larger. Many are finished quilt tops, but I'm interested in doing detailed quilting that could take a while for some of them. But more importantly since those wouldn't be new projects started and finished in the challenge period my finish wouldn't count toward the collective total; I wouldn't really be part of the community this season. (Relatedly, I wouldn't be eligible for prizes, but that bothers me less.)
In past years I have often chosen small projects. I got the big idea that maybe I could do my unofficial project and a small official project. So now I'm trying to make TWO quilts in one week. (Are you laughing?) Then the next natural thought was that I should do the official one first.
I've finished a bunch of mini mini quilts recently. I really love the artist trading card size for a mini mini quilt (2 1/2" x 3 1/2"). And I have a couple fabulous rainbow fabrics that would be perfect for the All The Colors challenge. This week I decided on a whole cloth mini mini quilt. I quilted it with seven colors of thread, Aurifil 50wt in Dark Violet (#2582), Turquoise (#2810), Spring Green (#1231), Light Magenta (#2588), Bright Orange (#1133), Canary (#2120), and Light Delft Blue (#2720). I used a contour line motif, following the pattern in the fabric.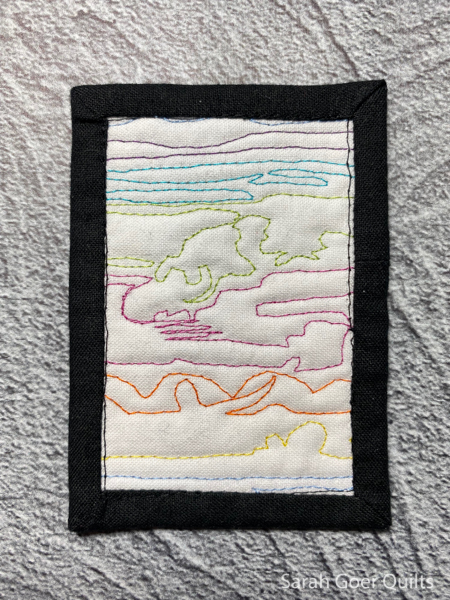 I encourage anyone who is interested to dive into the Project QUILTING challenges. If you want to participate and don't have enough time, just make a smaller project. Not enough time for that? Think even smaller. I quilted mine in the hour before dinner this evening. And after dinner I bound it while I played a game of Bloom with my sister on Zoom. Start time 5:40pm. Finish time 8:40pm.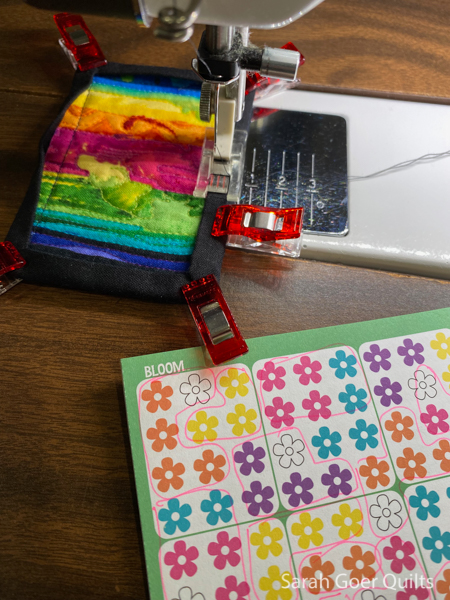 I'm still planning for finishing a WIP that meets the theme of this week's challenge. It probably won't be by the deadline, but since it's unofficial, that's just fine. Maybe I'll use the off week between challenges to finish it. And as for the rest of the Project QUILTING season... I am now planning for a series of ATC mini mini quilts (perhaps all whole cloth) as well as finishing a WIP that ties to each challenge theme.
I'm linking up with Kim for Project QUILTING 13.1: All the Colors. Be sure to hop over and see the over 136 finished projects that folks created in just one week! Such an inspirational list. A big, giant thank you to Kim and Trish for creating this amazing community of makers. Also, a big thanks to my daughter. She selected all my thread colors and assisted with swapping thread as I quilted. She also filmed my video for the reel I shared on Instagram of my quilting.