I'm excited about the announcement for this week's Project QUILTING challenge: A Novel Project. The one big rule is that our projects need to be inspired by a book we've read. Easy peasy! So many options. (I hope you'll consider playing along and making a quilt between now and Sunday!)
In the challenge theme announcement post Trish shared a number of her book inspired projects. It got me thinking about which quilts I have made inspired by books. Here's a wrap-up of those projects.
***click on the photos to read more about each project***
The first thing that came to mind is Very Hungry Caterpillar. I adore the children's book and when the Very Hungry Caterpillar fabric came out I admired it but had no reason to buy it... until I found out it was pregnant with my first. I think Very Hungry Caterpillar fabric was the first baby-related item I purchased once I knew I was expecting.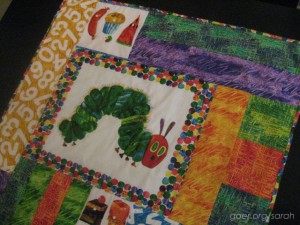 My son's crib quilt was the first project I made with those fabrics (back in 2010). It was probably the first thing I pieced improvisationally, starting with the panels and building around them until it was the size of a crib mattress (odd dimensions, I know now).
I had purchased *a lot* of the Very Hungry Caterpillar fabric, which resulted in at least three more quilts, the last of which was a twin-sized bed quilt for my son which took me way too long to finish. Oh, and the pillow case on there, too!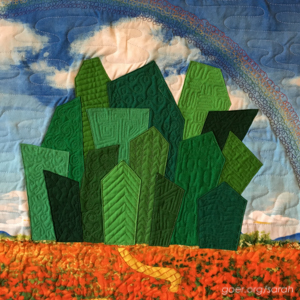 In 2016, when my sister was expecting her first, the baby;'s room had a Wizard of Oz theme which inspired me to make a Wizard of Oz baby quilt. I absolutely adore this quilt. It was designed as I went. The Emerald City is appliqué and the yellow brick road is reverse appliqué.
In 2021, I used a Willy Wonka inspired fabric pull for a Project QUILTING challenge.
One of the very first quilts I made was from a book was from Quilts from The Quiltmaker's Gift with patterns out of the delightful children's book The Quiltmaker's Gift.
The last reference I could find to books on my blog was not a project, but a fabric pull. Fiction and Fabric was a fun activity using a book as inspiration for pulling together a small palette of fabric.
Now to decide what I will make this week!