I've really been enjoying connecting with guilds on Zoom. I recently joined the Ocean Waves Quilt Guild in Lewes, DE to share my Rules and Options of Planned Improv Piecing lecture and teach All About Angles. This workshop is one of my Planned Improv workshops where I present a technique and set of rules to follow, with lots of options for students to make the composition their own. From fabric choices to color placement, sizes and angles of cutting, and other unique twists, I love that everyone's finished projects look unique in the end. Here are the progress or finished photos I've received from students in that workshop.
---
by Allison
---
by Linda Grigsby
---
by Dottie Vuono
---
by Kathy V.
---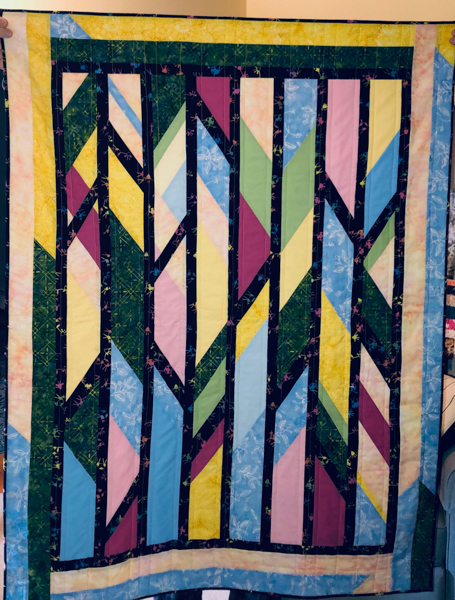 by Trisha Moller
---
Quilt of Valor by Carol O.
---
It's hard to tell from the photos but these projects range from mini quilt to lap quilt, with a variety of sizes in between. One of the things I love about improv piecing is you can keep going until it's the size you want (or as long as you're still having fun). Students sometimes set a size parameter as part of their own initial rules, for example, planning for a placemat-sized finished quilt. The use of additional elements, borders, and strips of fabric really add to the variety of options with the All About Angles technique.
You can read about all my workshop and lecture offerings on my Teaching page. I'd love to visit your guild on Zoom.