There's a sentiment about how a first child's experience is different than a second child's. (We could talk about how my 8 year old doesn't have a baby book yet.) Apparently the same goes for niece and nephew. Within a couple months of my nephew's birth, he had a baby quilt. However, my niece just received her "baby" quilt for her 2nd birthday.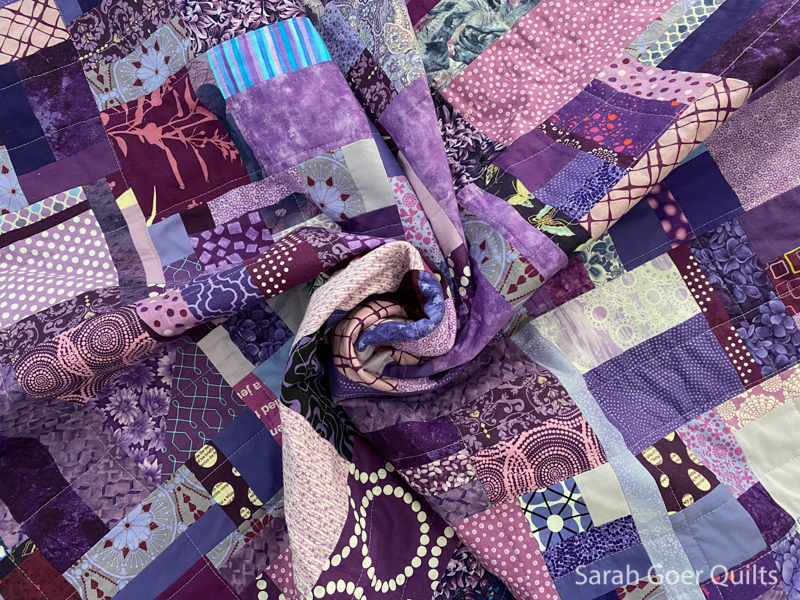 I started out with a different plan for her. My nephew's quilt had been inspired by the mural in his room and I wanted to do the same for her. But her African safari wall left me feeling like I "should" do appliqué... and I don't particularly enjoy the process of appliqué. Eventually I pivoted to focusing on the main color of her room, purple, a favorite of mine. I have a lot of purple scraps and I have been building purple scrappy slabs to piece for Jillian's quilt for over two years!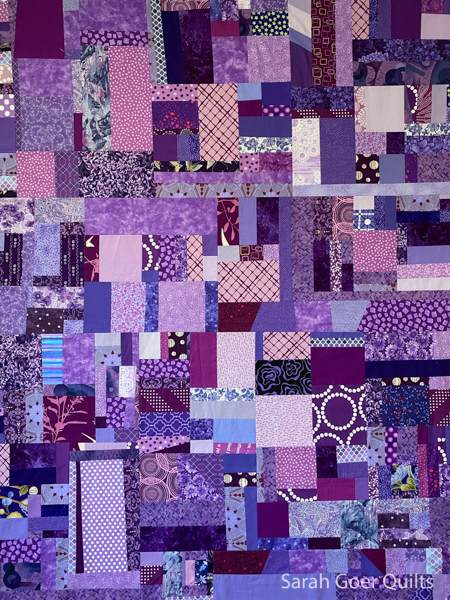 In recent weeks (months?) the quilt top has been my backdrop while I'm on zoom. I love reminiscing about the previous purple projects these scraps have come from. (There's a section in the upper right that's from my Ultra Violet All About Angles quilt.)
I'm really deadline driven. As Gretchen Rubin says, "things that can be done any time are often done at no time." And that really resonates with me for quilts that don't have a deadline. A challenge or quilt show submission deadline is really motivating for me. Quilt alongs and 100 day projects help, too. But "I'm making this for someone" doesn't usually have a deadline. As we approached her 2nd birthday, I decided this needed to be my hard deadline. I could hardly still call this a "baby" quilt, but at least it is sizable enough to be a good cuddle quilt for years to come.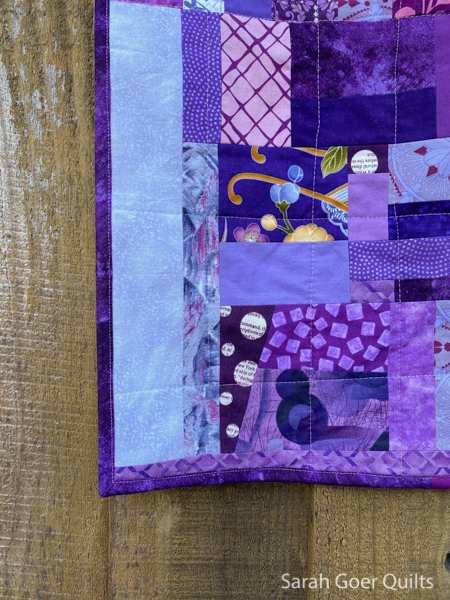 I opted for simple walking foot quilting in organic vertical and horizontal lines. I didn't concern myself with perfection or equal spacing.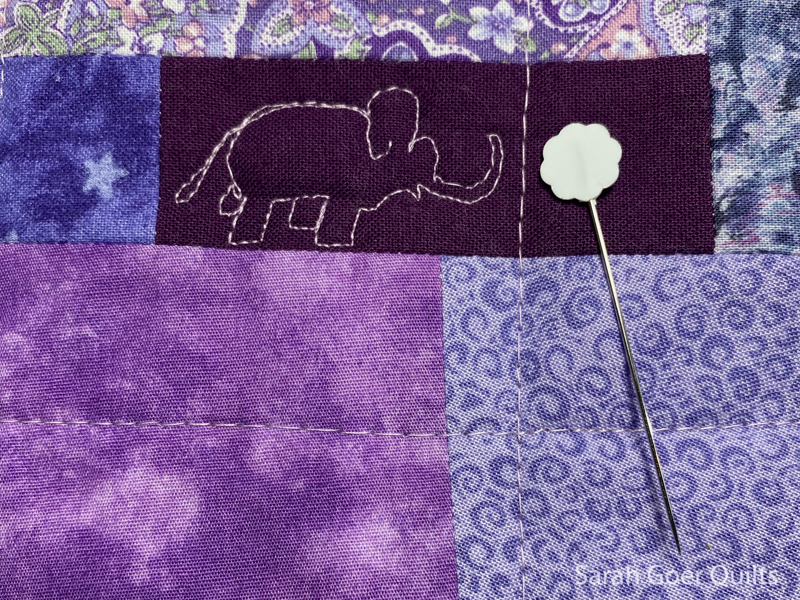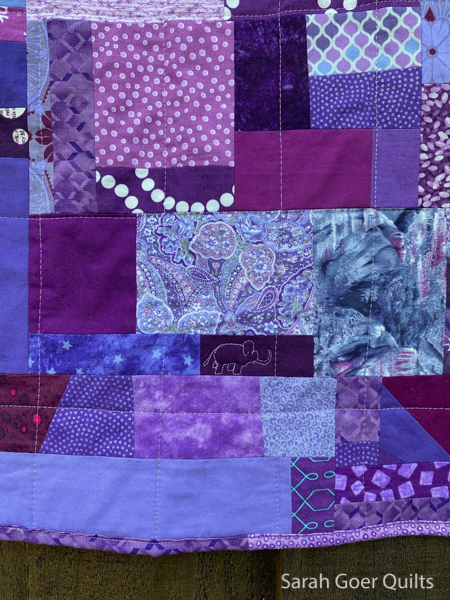 Then I added a little free motion elephant as a nod to her room. (Shh. I also have an elephant quilt in progress for her.)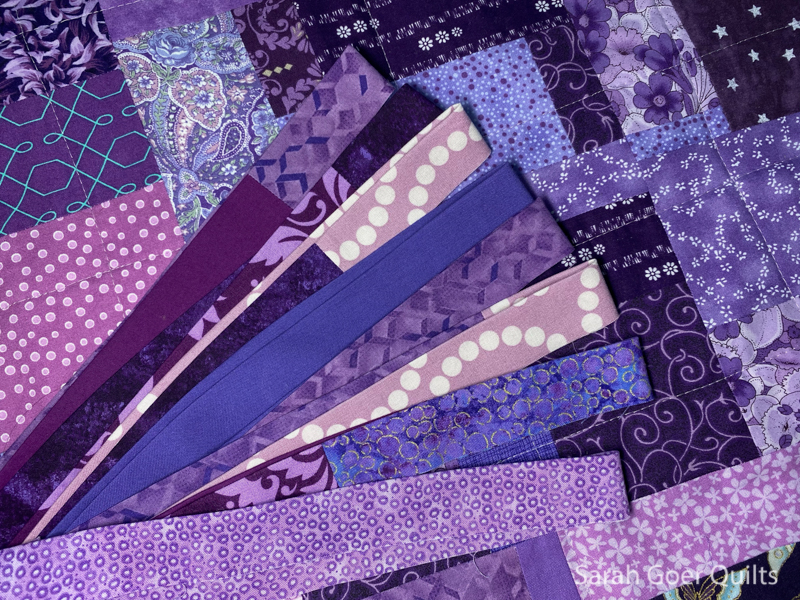 My binding is more scrappy fabric. I usually opt for a bias binding, but this one was straight grain pieces, since I wanted to use scraps. I attached the binding by machine.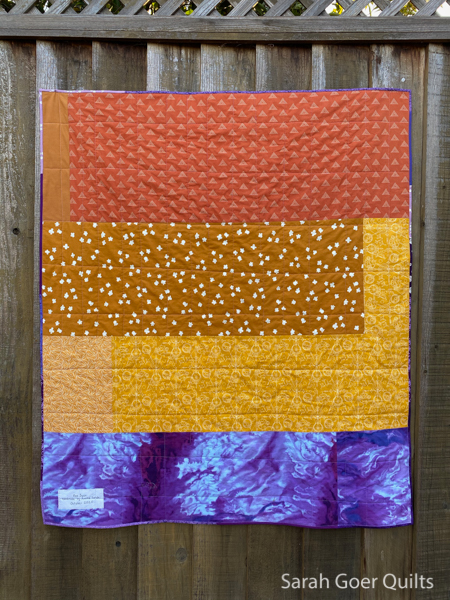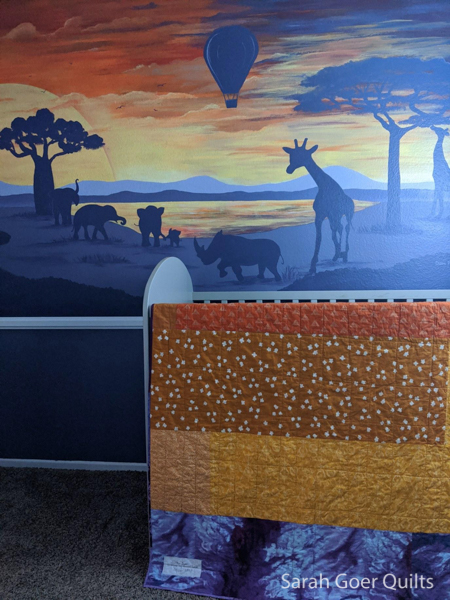 One of my favorite features of the quilt is the color blocked backing. I chose these fabrics to emulate the mural on Jillian's wall.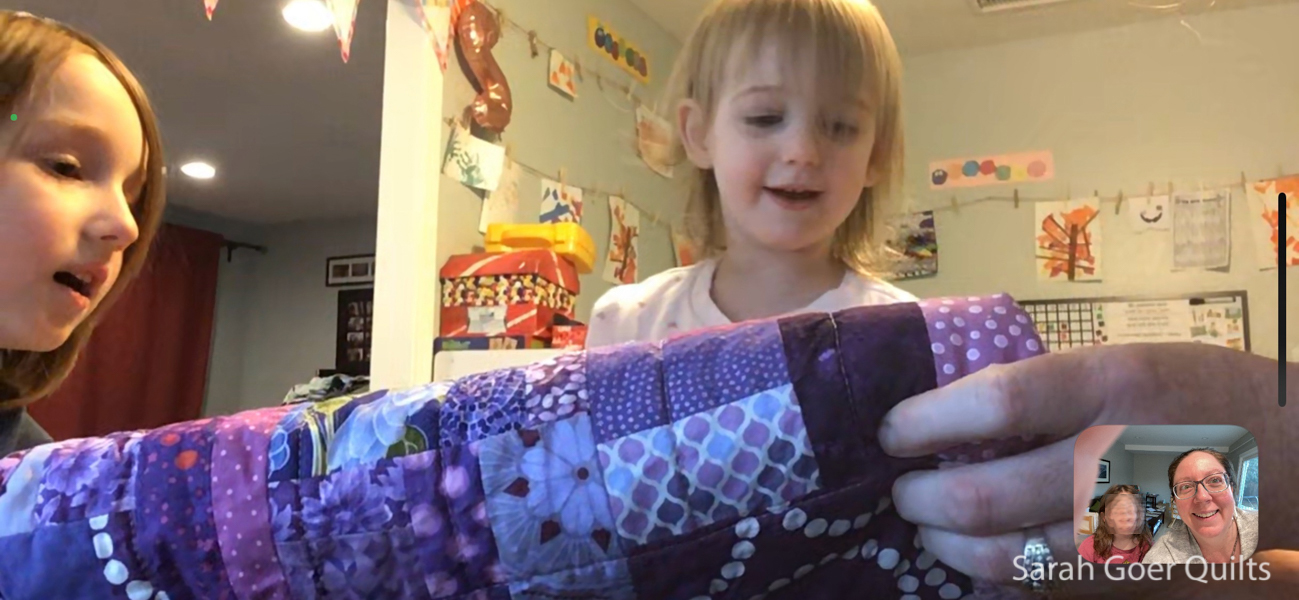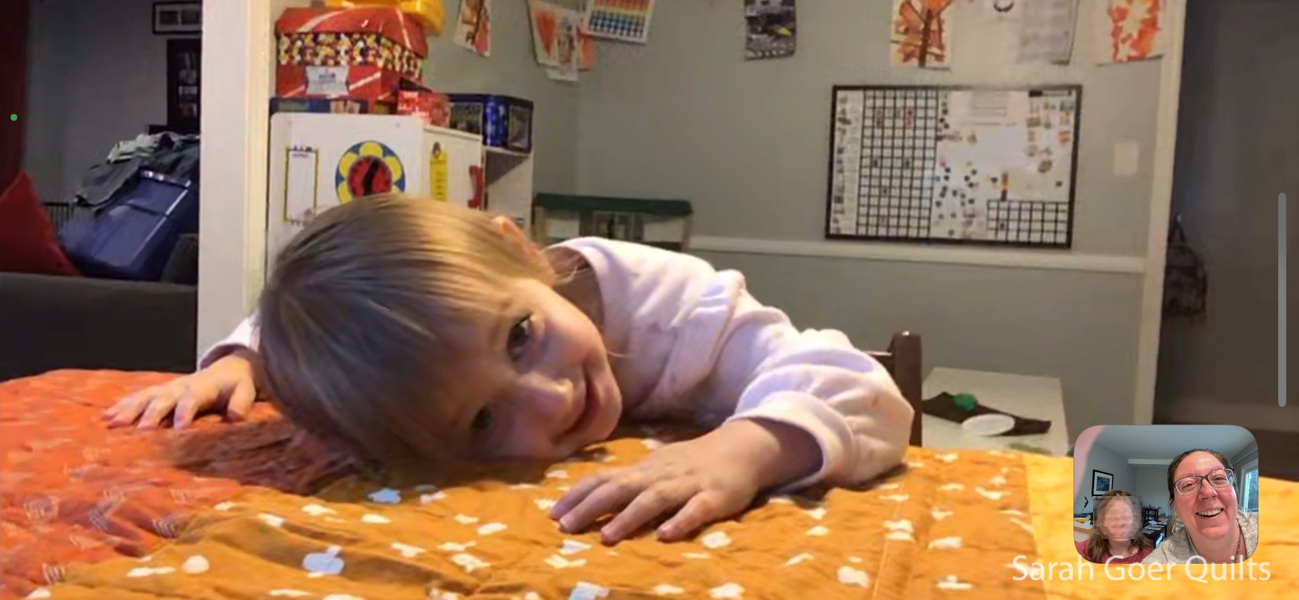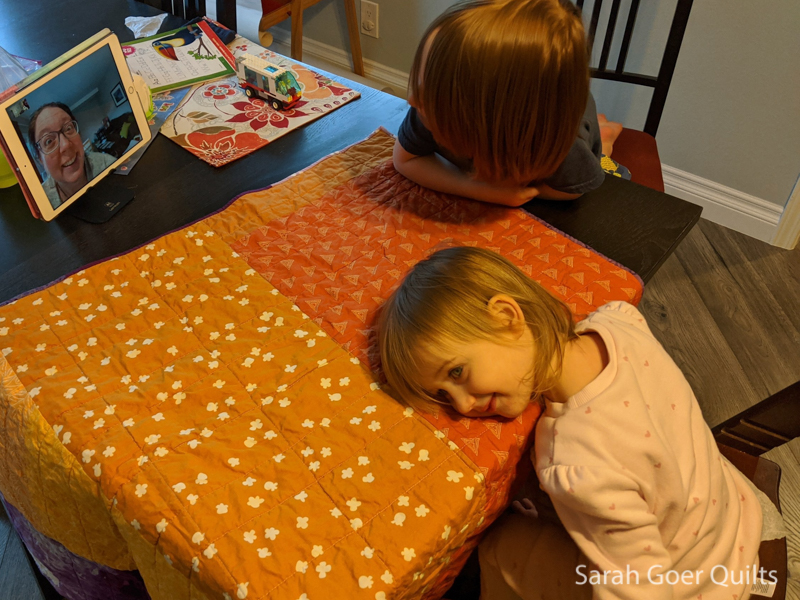 I packaged it up and mailed it in early November. We connected on FaceTime so I could see her open her gift. She was delighted.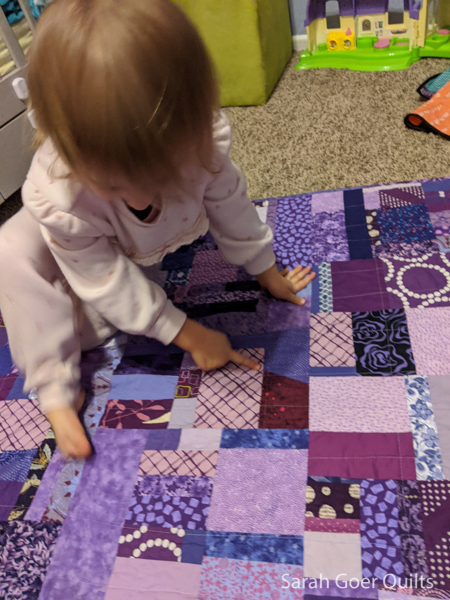 After her initial appreciation, she just had to run into her bedroom and spread it out on the floor. I'm glad she's enjoying all the details.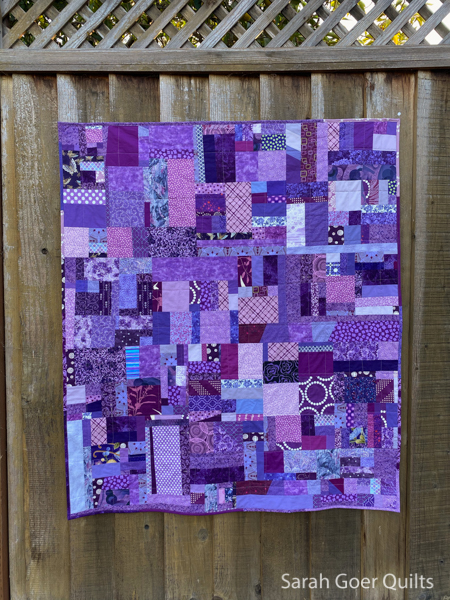 The quilt is approximately 43" x 50".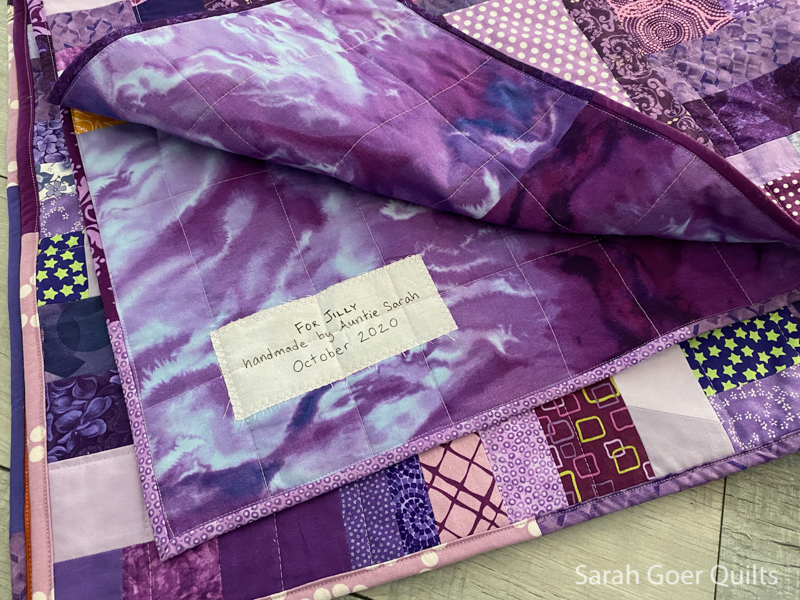 The label reads:
For Jilly
handmade by Auntie Sarah
October 2020
Creating a Scrappy Slab is a workshop I currently offer (virtually) to guilds.