My new 100 Day Project is underway. With 9 days left on Quilting the Countdown, I'm on Day 10 of my new project, 100 Days of Free Motion Quilting.
I'm committed to at least 15 minutes of free motion quilting each day, though I'm certainly averaging a bit more. The first quilt (and 9 of my first 10 days quilting) has been my elephant quilt (from Elizabeth Hartman's Spectacular Savanna pattern).
I began by quilting the trunk and head. Then began on the ears.
I used nested Cs to fill each section on the ear. You can really see the dimension of the quilting in the dramatic lighting of the last photo above.
Today I got started on the filler for the right ear. It takes me about 15 minutes to fill two sections. I think the first ear was about an hour of quilting all told.
On Saturday I took a break from the elephant to quilt my Virtual Vacation submission to Project QUILTING.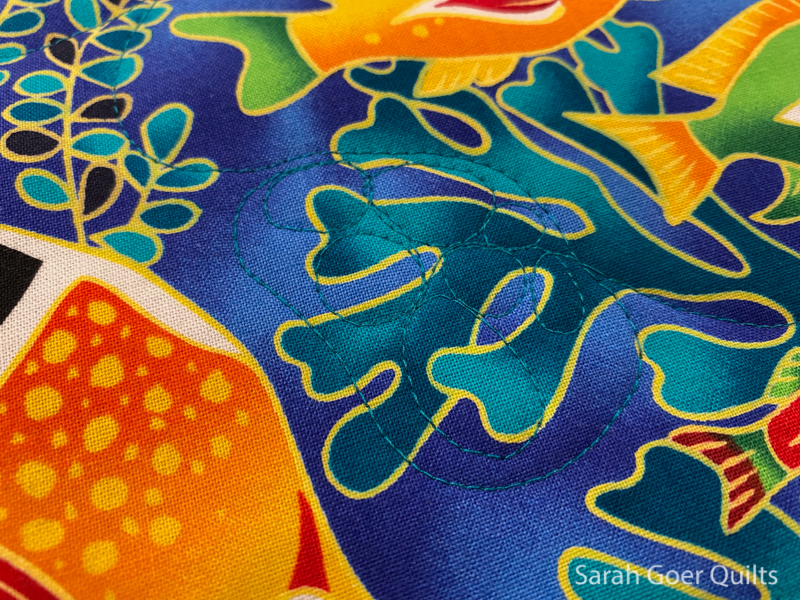 This quilt had a combination of straight line and curves free motion quilting. I used the seaweed and coral as my inspiration for the free motion quilting on this section of my quilt.
I think I have three more days of quilting the right elephant ear and then I suspect a filler motif in the background will go more quickly. Maybe I'll have that one finished by my next update on Day 20. You can see daily pics on Instagram @sarahgoerquilts.