Ya know how I said I was going to start early in the week for this week's challenge? Nope. Here's my Saturday quilt, finished in the wee early hours of Sunday morning.
I taught the first half of my All About Angles workshop on Tuesday. I can't teach a workshop without being inspired by my students to create another version on one of my techniques. I don't always have time to carry that out, but this week's Project QUILTING challenge was the perfect opportunity. This week's theme is Virtual Vacation. We were asked to make a project that was somehow inspired by vacation.
On my very first weekend away with my husband we went to Monterey for the weekend to celebrate my 30th birthday (thirteen years ago!). We stayed in a lovely B&B, visited the Monterey Bay Aquarium, and walked around Pacific Grove. This included a stop at Back Porch Fabrics where I purchased this fat quarter of fish fabric. I intended to make a mini quilt as a memento of the weekend. This challenge was the perfect opportunity to finally use the fabric, but I opted for a table runner. I cut the fat quarter in half. This determined the width of the runner. Then I pieced eight All About Angles units (one didn't make the cut) in coordinating Kona solids. They weren't all labeled, but this included Kona Papaya, Parrot, and Breakers.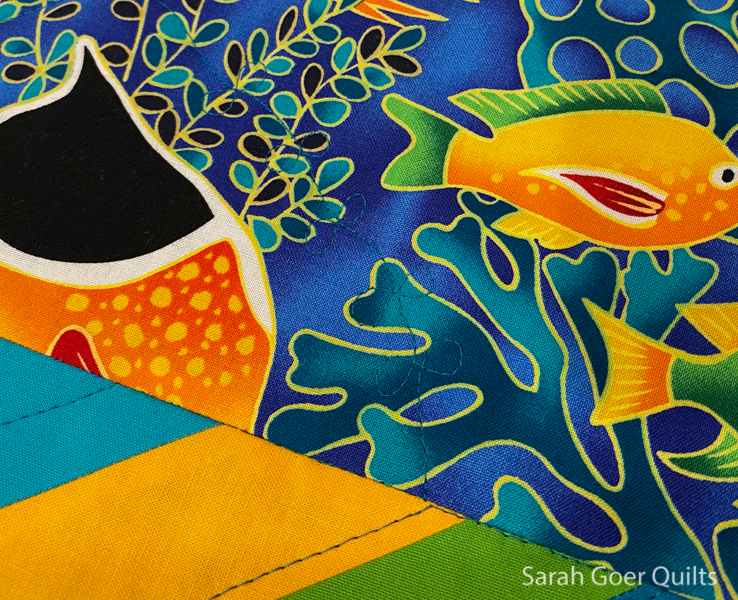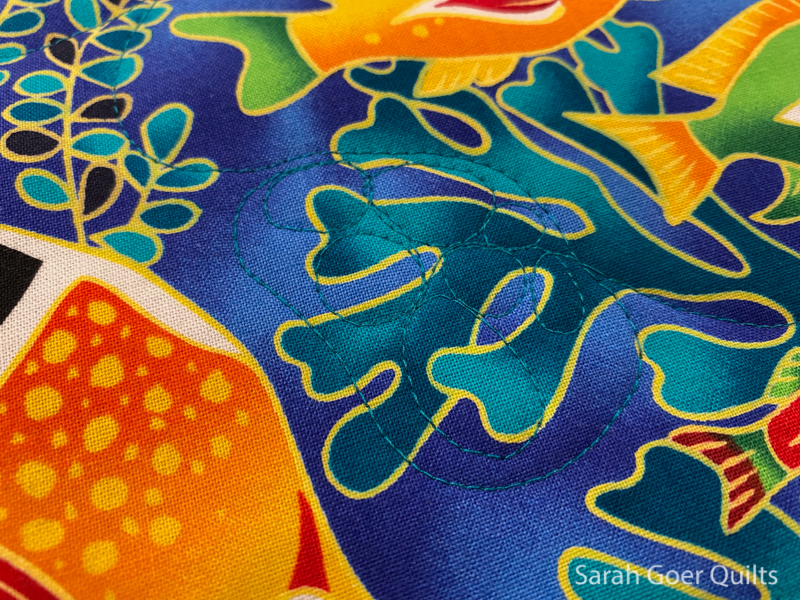 The quilt is bound with a pillowcase finish and free motion quilted in 50wt Aurifil Jade (#4093). I echoed the piecing in the All About Angles panels and quilted seaweed among the fish. The runner finished at approximately 10" x 56", the perfect size for my kitchen island.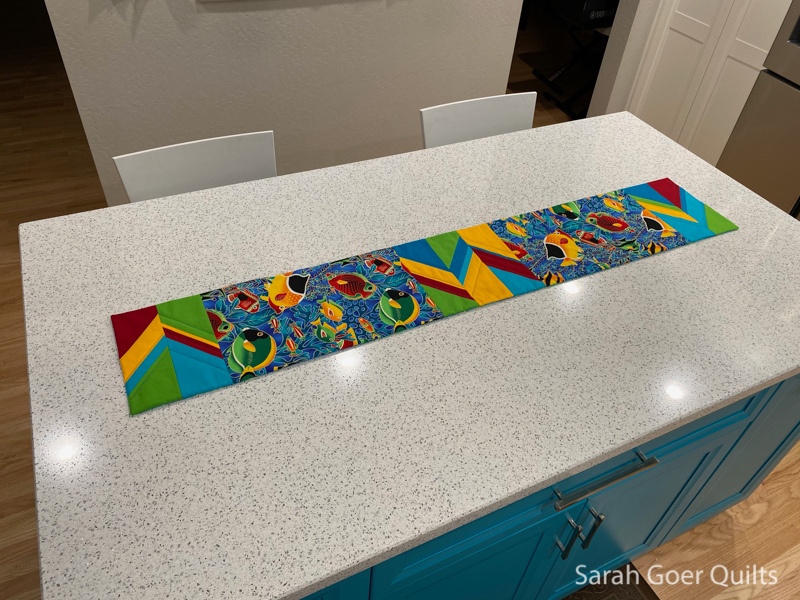 For those of you who have seen my PQ 12.1 and PQ 12.2 projects you may remember that I was using a modern traditional design for each challenge. I had to make the choice to skip modern traditional this time, because I couldn't get excited about a way to feature the large print fish and maintain a modern traditional design in a 16" mini. I hope to be back to modern traditional designs for the last three challenges this season.
Thanks for visiting! Be sure to hop over and see the many vacation quilts linked up on Kim's blog for the Virtual Vacation challenge.