I have been enjoying the consistency of a 100 day Project. It's such a great way to build skills, dabble with techniques, iterate on a theme, or buckle down to focus on getting something done. In my last complete 100 Day project I completed a five mini quilt series of Improv Log Cabins. Currently, I'm working on a WIP from 2015. In both of these I set myself a manageable goal of 15 minutes a day. Some days that 15 minutes sure feels like work, but most days (even those that start out feeling like work) I work past the 15 minutes mark... sometimes for hours.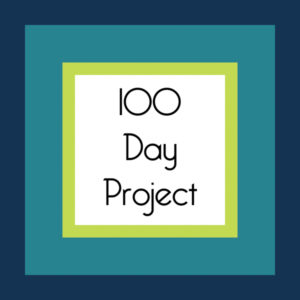 The organizers of The 100 Day Project are starting their 8th annual 100 Day Project on January 31. This is a great way to participate in a 100 Day Project with a *really big* community. Makers and artists of all kinds will be starting the project together on Sunday. While my current 100 Day Project (with the community of quilters led by Cassandra Beaver) doesn't wrap up until late February, I'm considering diving in to a new 100 Day Project on January 31. I figure I can probably handle a few weeks of overlap.
Some options I'm considering:
dig out another WIP to work on
some other art task, perhaps watercolor, doodling, or art journaling
something business related, maybe pattern design, video content, etc.
a simple improv unit that I can make one a day
Will you join in? What are you considering or planning to do for 100 Days? Read all the details about joining the community on Instagram and Facebook. "What can you do? Anything at all! Paint, draw, dance, knit, doodle, sing, brush your teeth."