In November, I shipped off my Schnitzel and Boo Swap package. My partner, Margaret, told me that she likes interesting animals. And she had some Tula Pink in her inspiration mosaic. I immediately knew that I had to do something to feature a purple Tula raccoon and had a great time pulling Tula fabric to coordinate.
Margaret also had a stripey 8-point star in her mosaic, so I decided to design my own 8-point star with an octagon in the middle. I used EQ7 to create my paper pieced segments to go around my octagon and fussy cut the raccoon to fit in the middle. Of course, adding eight segments around an octagon created y-seams. Now, I don't know the "proper" way to go about this, so I'll tell you the "how I just made it up" way.
Once I had pieced all 8 outer sections (and leaving the paper on), I attached each of them to the center octagon only. Then I went back and pieced the seams connecting the segments. Two demerits for not changing to white thread for those white to white seams. :-/ Overall, I'm really happy with the process and result. Then came the quilting.
Sometimes I have this thing about not wanting to quilt on top of some part of my design to not detract from the pretty, pretty fabric. Yeah, I need to get over that. This time, I decided to just quilt the white background and chose graffiti quilting. I started with an M for Margaret in the lower right. I was a little rusty, but I did a little graffiti doodling to warm up and then jumped it. I'm looking forward to doing some graffiti quilting on a larger quilt, using a larger scale, but I really love the look of the dense quilting on this mini.
I attached my lazy mini quilt label to the back with fusible before quilting. I figure a wall hanging won't be washed much, so it works. I was so happy to send it off to Margaret and am so glad she loved it!
Here's the awesome mini I received from Melissa for the swap. I like to encourage my swap partners to try something new and to make something they love. I was so excited to receive this beautiful mini! I love that it's not something I would have made myself. Just look at all those awesome curves! And the amazing quilting! I found the perfect place for it next to our colorful wedding ketubah in our dining room. Score! (P.S. I really need to change the quilt on the right to be another colorful 24" mini instead of this smaller one.) All the extras she sent were so thoughtful as well. A lovely zipper pouch, fun office supplies, chocolate, and neat wind up toys for the kids and I to enjoy. Thank you again, Melissa!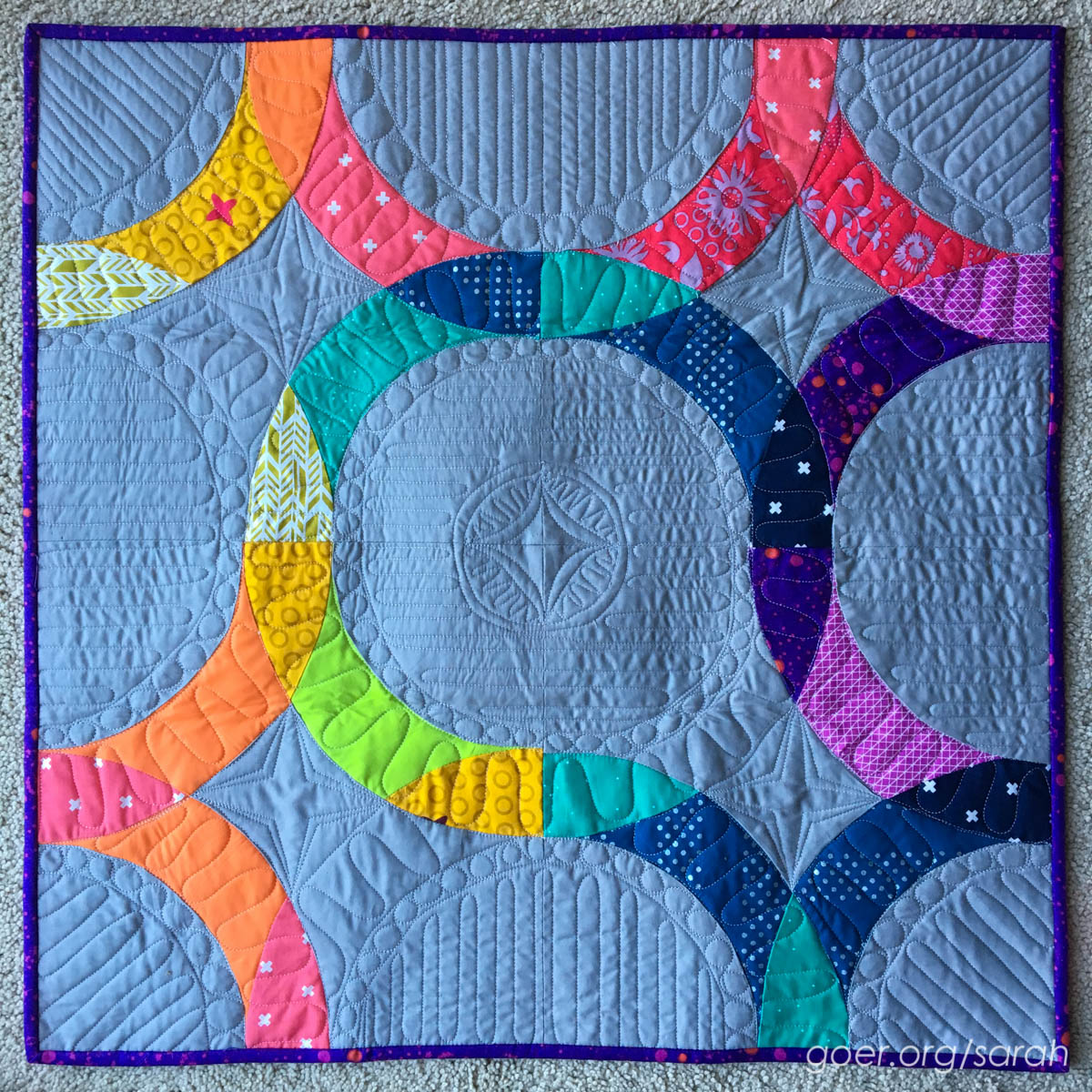 (Pardon the wonky shadow from the light fixture. ;-))
Thank you for visiting!
I'm linking up to Finish It Friday, TGIFF at Quokka Quilts, Fabric Frenzy Friday, Link-a-Finish Friday, Needle and Thread Thursday and Adrienne's 2015 Q4 Finish Along post. See all my Q4 goals here.