I'm still playing catch up on showing you my finished improv log cabin mini quilts from my last 100 day project. You can see my green and yellow quilts in previous posts. Today, I'm sharing my red version! My main rules were to use black, white, and one color, and that my finished quilt would be 16 1/2" square, bound in black Kona.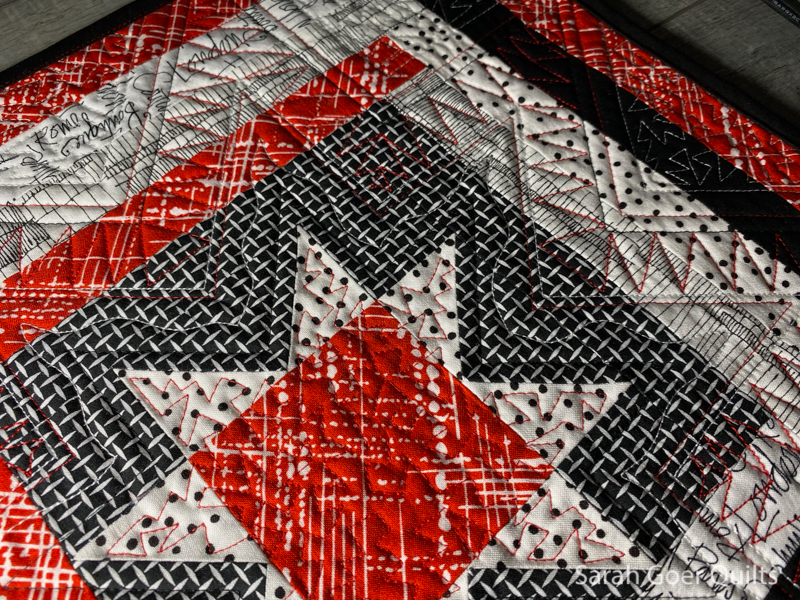 In my red quilt, I chose to start with a traditional quilt block in the center of the log cabin. The sawtooth start block is one of my favorites, so I started with that. Since my mini quilts finish at 16 1/2" square I made a 6" star block for my center.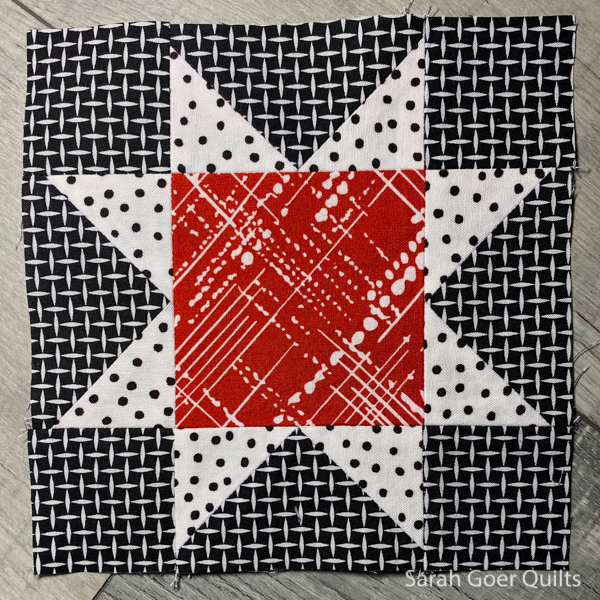 Initially I thought my logs would be wonky to surround the block (another variation to try later!), but I think the busyness of the print fabrics steered me away from that idea. In the end I have uniform 1" finished, rectangular logs. My log placement worked counterclockwise around the block.
I had fun with the quilting. I started with three colors of thread in three weights, Aurifil Red (#2250), Black (#2692), and White (#2024) in 50wt, 40wt, and 28wt. (Thanks Mel for the loan of a few spools I was missing!) I didn't have an overall plan. I just knew that I wanted to use a variety of color and thread weight. I started with a favorite filler, a zig zag meander, in the center of my star. Then I echoed the outer edge of the star. I switched threads and weights for each step. It adds a lot of time to the process, but I think the effect is worth it.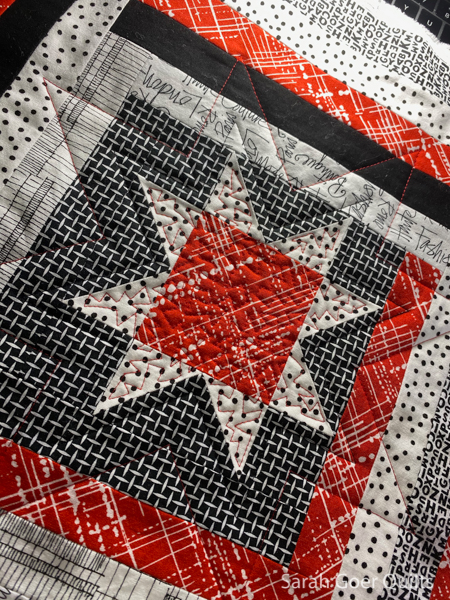 Here's an early view of the back of the quilt. This bowling pin print has been hanging out with my black and white prints, but it isn't quilt a black and white print, so it has been passed over many times. But it was perfect to back this quilt!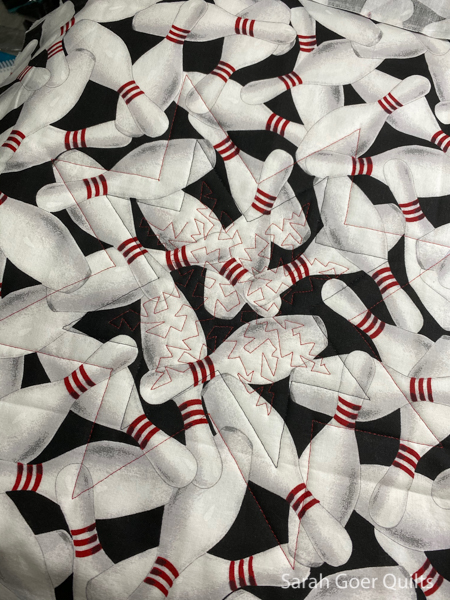 I filled in between my straight lines (which were free motion quilted, too) with wavy and zigzag lines of quilting. For the zigzag quilting I used washy tape to mark the lines where I needed to switch directions to help achieve a mirror image at the bends in my path.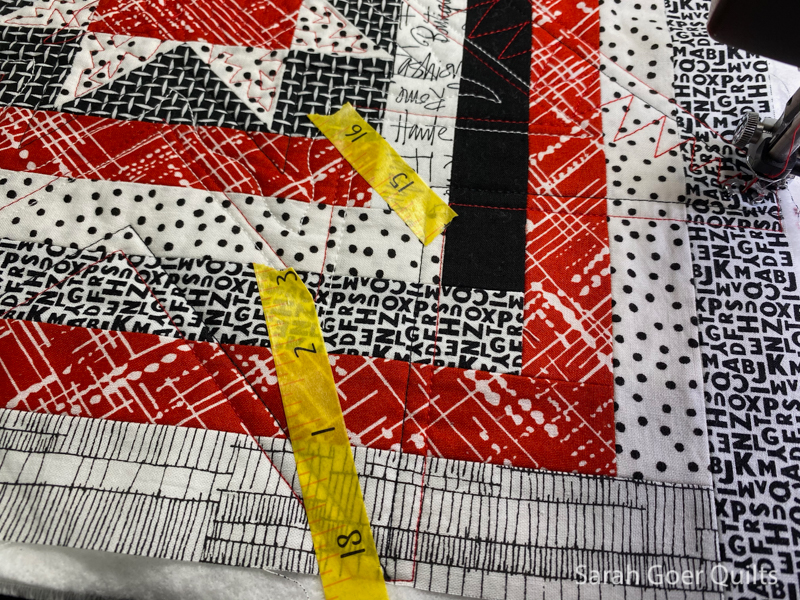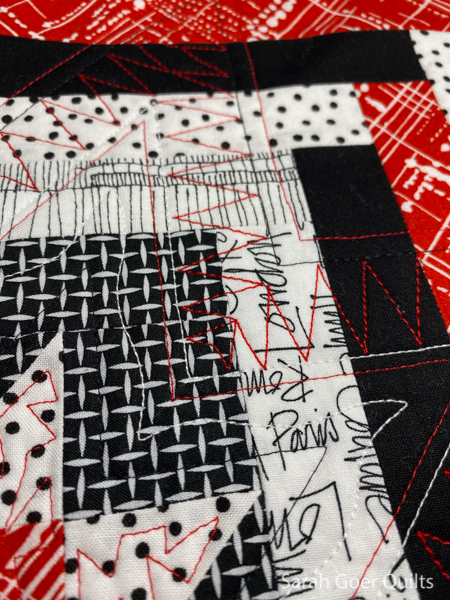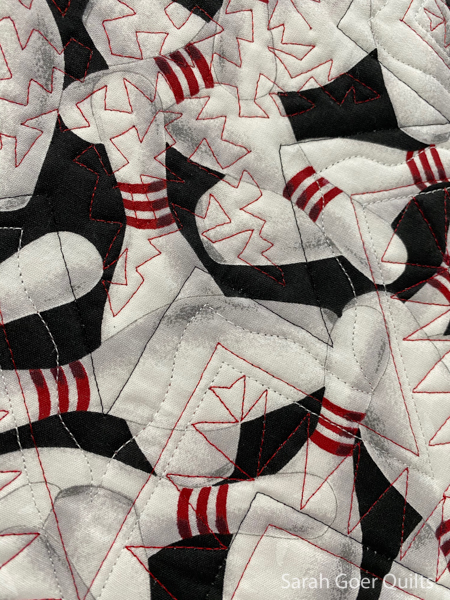 After more echo lines of quilting, I filled in the corners and edges with zig zag meander in white. I used my usual machine binding technique with solid black Kona, but I opened to do the top stitching with 28wt red thread. I love this added detail.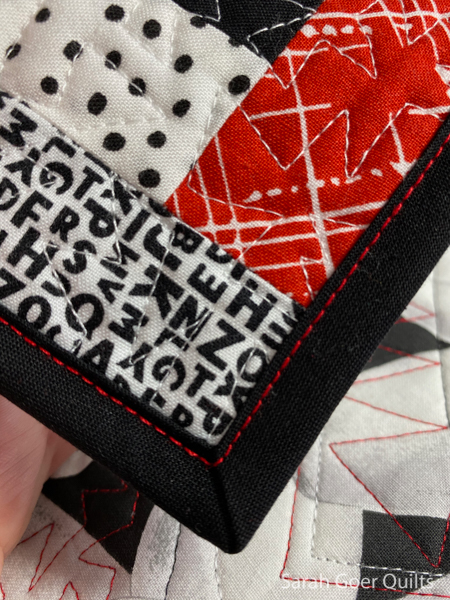 My finished quilt is 16 1/2" x 16 1/2". I really enjoy how the different colors of quilting show up more or less on different portions of the quilt. For instance, the white thread really pops on the black solid, but fades into most of the print fabrics.
Thanks for visiting!
You can read all about the other quilts in the series here:
I've linked up to Brag About Your Beauties!