After a summer hiatus, Show Me Something is back! Thank you to everyone who showed us their quilts outdoors back in June.
There are many ways to use appliqué in quilting. This summer I took not one, but three(!) fusible appliqué classes! My very first appliqué blocks were three apple blocks I made for the block of the month at my very first quilt guild meeting, which I attended back in... 2002. (See first photo below.) I was so excited to participate and so disappointed when I found out the blocks were appliqué that month. But I powered on and made three blocks. They were hand stitched. I used freezer paper templates to fold the fabric over and press the folded edge before stitching. Some people love needle turn appliqué, but I've never given it a try. I'd love to hear about your favorite appliqué technique or tool in the comments. And please share up to 3 new or old quilt finishes for Show Me Something Appliqué. You have until September 30 to linkup, plenty of time to make something new if you'd like.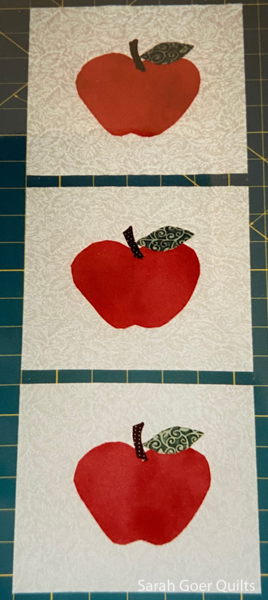 My very first appliqué blocks, circa 2002.
Sometimes just one piece of appliqué really changes a quilt, like this pumpkin leaf.
These are some of my fused appliqué blocks from Lisa Walton's Fantastic Fusion class this summer.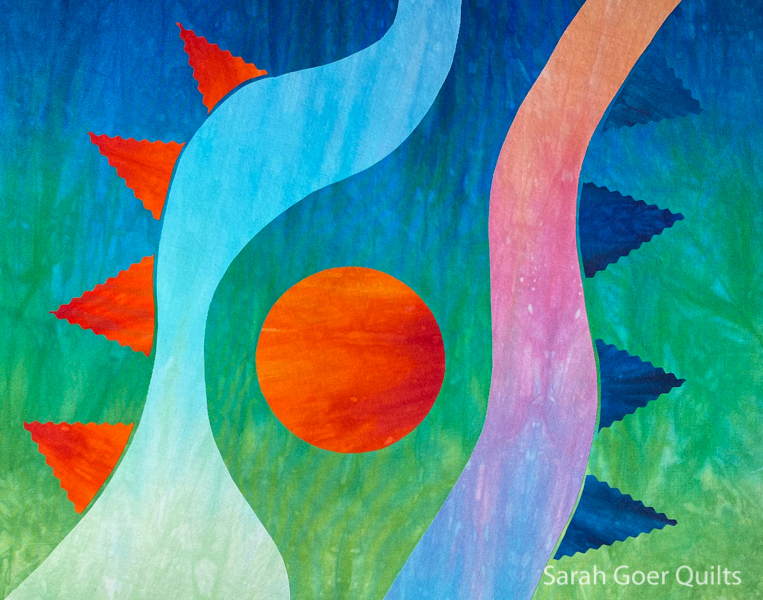 And this is my composition from Laura Wasilowski's class in July.
One more! A combination of fussy cut Nemo and Dory atop improv curves.
I look forward to seeing your finished quilts and where you've taken them!
Here are the linkup details:
The monthly Show Me Something quilt linkup will start on the first of the month and continue until midnight (PST) on the last day of the month.
You may linkup a maximum of 3 new or old finished projects that fit the theme.
You may linkup a blog post or Instagram post.
Participation in the linkup grants me permission to use an image of your project in a future blog post, with credit and a link back to your post.
If you linkup from a blog post, please link back to this post in your post. If you post from Instagram, you can tag me @sarahgoerquilts.
Visit others in the community who share their projects... and leave comments. :-)
You are invited to the Inlinkz link party!