For the 8th night of Hanukkah I received what most would think is a pretty random gift. My husband gave me a bun pan rack. Actually a half rack (cause a full rack would be ridiculous!). You might not know what this is. It's a rack like you would see in an industrial kitchen to hold sheet pans. Most likely maybe you've seen one behind the counter at a donut shop or bagel shop.
So why did I receive this gift? Well, I don't have an industrial kitchen and my oven isn't even large enough to fit a full sheet pan, so not for baking! I'll be using it in my studio for project organization. I've been using the smaller version of this for years... fast food trays. This new super size tray system will give me even more room to organize my ongoing projects. Try as I might, I'm usually working on at least 2-3 projects at one, plus monthly bee blocks. And often these projects get buried under layers on my cutting table or ironing board. (Maybe you can relate?) These 18" x 26" pans give me lots of space to pack in all the pieces for even a larger project. And I can use my fast food trays on them.
I've loaded up the current active projects and raised the height of my cutting table to fit the rack underneath for now, though I've already decided this slight adjustment to table height makes it suboptimal ergonomically, so I'll be making some adjustments. My room isn't giant, meaning I probably don't really need to be able to roll it around, so maybe I'll just remove the wheels. Or if I rearrange things a little, I think I can roll it into the closet. Time will tell... but probably I'll wait until I need to do more cutting to deal with readjusting my table height.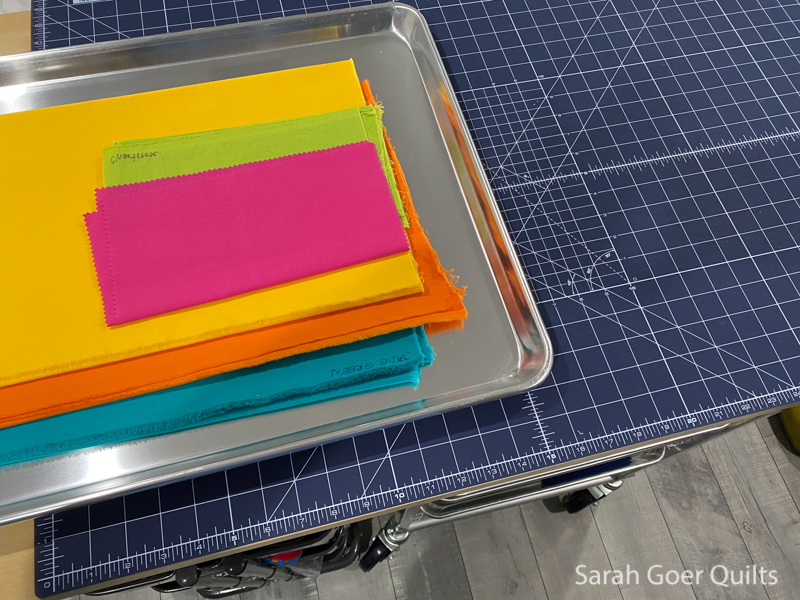 These are my Kona solids for my bee blocks this month. I can easily pull out a sheet pan to put on my cutting table to work, or I can just pull them out like drawers as the picture above.
What's your most interesting tool or storage item in your sewing space?