In May, I took a virtual walking foot quilting class with Jacquie Gering with my local guild. Her class was a wonderful variety of walking foot skills. We filled 5 panels with quilting during the 6 hour class.
And... right at the beginning of the class she talked about open toe walking feet. Did you know that a walking foot can have an open toe!? I did not. Our class started at 9am that morning, and when the local sewing machine shop opened at 10am, I called up and asked if they had an open toe walking foot that would fit my 1982 Viking. I sent my husband to pick it up, and before noon it was installed. Let me tell you... game changer!
The walking foot on the left is the one I've been using for... over a decade. And the one on the right is my new, open toe walking foot. I can actually see where I'm sewing now! This allowed me to be really good at connecting points (see below).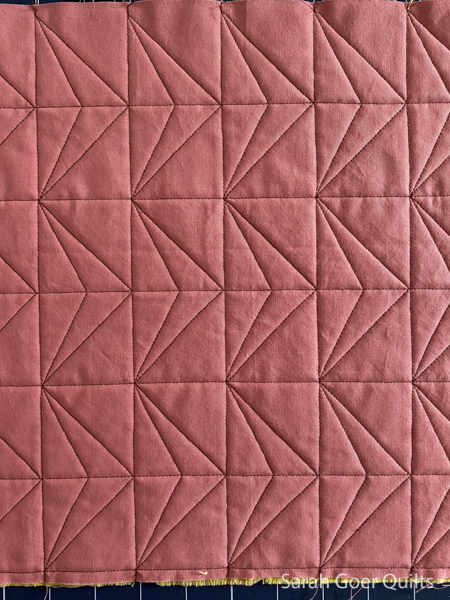 Here are two of the panels we made in class. I had a couple quilt sandwiches left over from a previous quilting class, but for these two 12" x 18" panels I chose a least favorite solid color for the top and a print I was not likely to use in a quilt for the backing fabric. At the end of class, I had five quilted panels. I decided that my 18" x 18" panels would be great cushion covers (coming soon). Then I decided that these two with the printed backings could be turned into zipper pouches with the print side out.
I love the Open Wide Zippered Pouch by Noodlehead. I've made it many, many times. (This is one of my favorites.) It's so versatile. Previously, I have used fusible fleece on the outer panel to give it some structure and a quilted look. This is the first time I used a three-layer quilted panel for the outer portion of the bag. It's a lot more thickness, but it worked out well, with one minor adjustment.
I chose a coordinating fabric that isn't likely to make it into a quilt anytime soon for my lining fabric. Here's a peek. I'm pleased that I had a zipper that matched my outer fabric.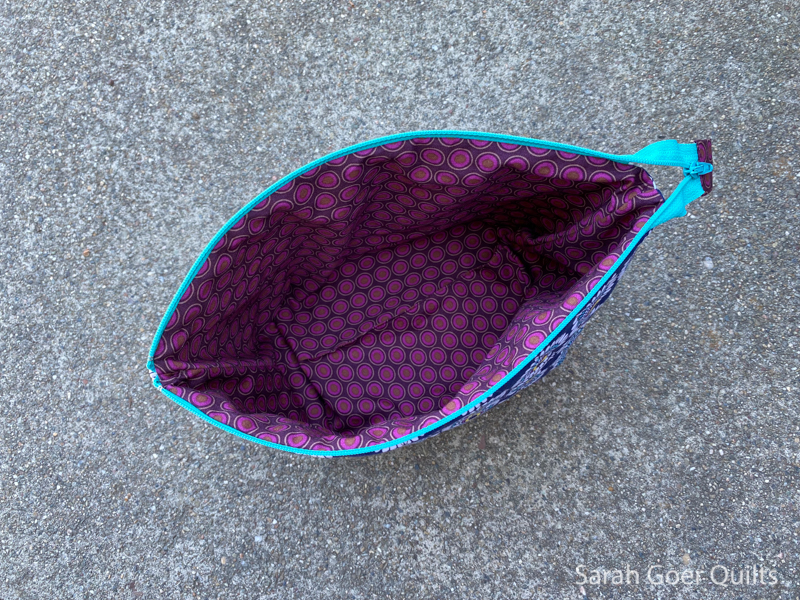 The Open Wide Zippered Pouch stands up on its own and... opens wide when unzipped. You may notice that my directional fabric is cut two different ways inside. We could call it a design element. Or a mistake. But really, it was the only way to cut the two panels out of the remnant of this print. I'm embracing the concept that "done is better than perfect" these days.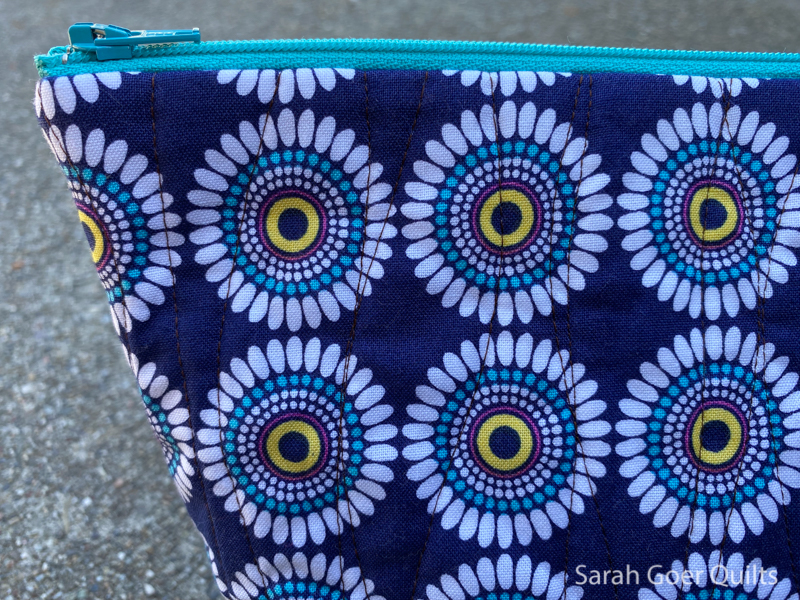 While the quilting is subtle on this one, the organic, overlapping curves is a great motif. It's easy to use in a lot of applications, both in walking foot and in free motion. My daughter helped me quilt a couple of the lines.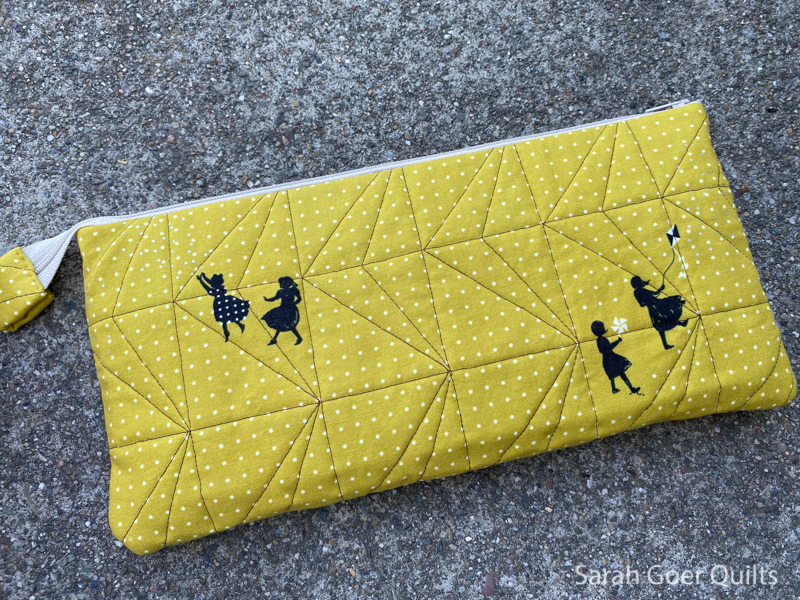 For my second pouch, my direction fabric ran the wrong way to cut panels large enough for another Open Wide Zippered Pouch, so instead I constructed this one in flat, rectangular panels. I love that the quilting is really a feature on this one. It also has a handbag feel to it with this shape. My panels were cut about 6" x 12".
I used the same basic construction (with the same adjustment) as the Open Wide Zippered Pouch and omitted the step to box the corners. I chose to use a remnant of my quilted panel to make the tab on the zipper. Since this was many layers of fabric (and batting!) I hand stitched the tab in place. It was way too bulky to get under the foot of my machine.
And for the one adjustment that I made. Since the bulk of the doubled layer of the quilted outer panel would have made topstitching around the top of the bag difficult, I simply tacked at the seams. In the photo above you can see my brown tack stitch (a simple zig zag stitch in place with the feed dogs down) about 1/4" below the top edge. I figure this is enough to keep the lining from popping up and getting in the way of the zipper.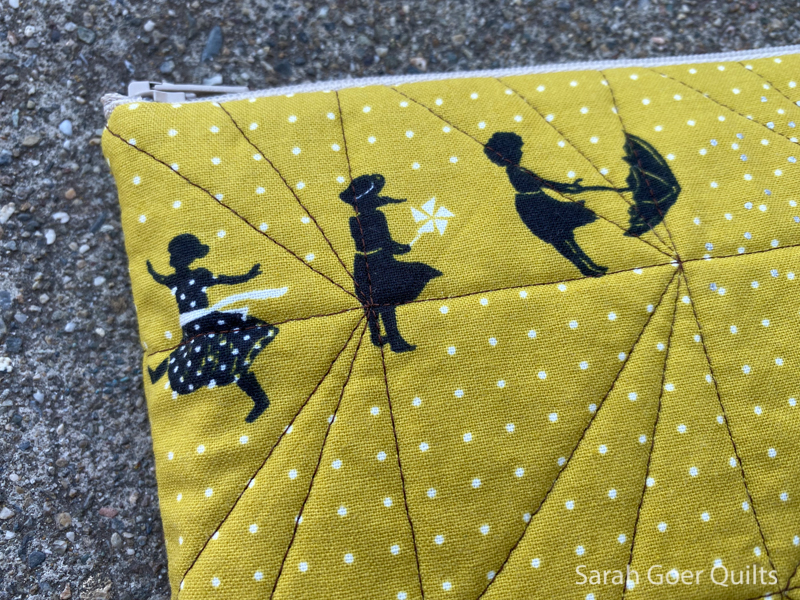 I love the delightful whimsy of the children on the fabric. It worked out well that I got a variety of kids on the two panels I cut. (Today I saw this adorable quilt block which featured fussy cutting of another color way of this print.)
These pouches are part of my 99 Days of WIPs (yesterday was day 30), which I'm posting about daily on Instagram. I'm focusing on projects started in classes in the last 5 1/2 years. (2016 was the first year I took quilt classes, after quilting for over a decade!)
While they aren't perfect in numerous little ways, they are lovely, and finished, and will someday make their way to a new home with a friend or family member. I'd love to hear about your favorite, faster-than-a-quilt, gifts to sew or make.
Thanks for visiting!